Patricia Banks Ruppe
"I'm so proud of what the Foundation has done and is still doing for our little city... Keep up the good work." - Pat Ruppe 2008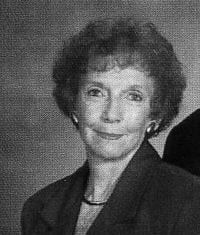 On October 20, 2008, the Lexington Community Foundation received notification that Mrs. Patricia Banks Ruppe had remembered the Foundation in her estate plan. 
Mrs. Ruppe was born and raised in Lexington. She graduated from Lexington High School with the class of 1943. She went on to further her education at the University of Nebraska in Lincoln. Pat married Eldon Ruppe in 1944, and they had one daughter, Cherie. The Banks family is remembered in this area for the Bank Clothing and Dry Goods store they operated in Lexington from the 1920s to the 1980s. 
Pat died on October 14, 2008, in Lexington. She enjoyed her travels, time spent at Johnson Lake, and entertaining friends and family. She was involved in her church and the community. Pat served for many years as a board member of her brother's foundation, the Robert R. Banks Foundation, which was formed to serve needy children. She also served as a board member for the Lexington Community Foundation. 
In her will, Pat directed a gift to the Lexington Community Foundation, a portion of which will endow a scholarship in her name. The Foundation worked with Pat's daughter, Cherie Ruppe Loudon, to establish the scholarship criteria and the impact she envisioned her mother's gift having on this community. This scholarship is awarded on the collegiate level annually.
Pat Ruppe was truly a friend of the Lexington Community Foundation. In a letter to the Foundation received on September 23, 2008, Pat wrote, "I'm so proud of what the Foundation has done and is still doing for our little city... Keep up the good work." She has been missed, but her legacy will continue to live on as her generosity will benefit the Lexington area for years to come.