BROWN FAMILY ENDOWS SCHOLARSHIP
"Father's Inability to Participate Athletically Leads to Hall of Fame Honors"
Richard and Phyllis Brown moved to Lexington with their five children in 1963. Richard was diagnosed with rheumatic fever as a young child. As much as he loved them, he could not participate in sports. Through the Jaycees, he started the Lexington youth wrestling program and became involved in St. Ann's football and Lexington wrestling. The Browns ran the Lexington wrestling invite, now known as the John Higgins Invitational - one of the largest invites in the state. 
Richard worked at the Lexington paper, and his coverages landed him the press room at the Nebraska state wrestling meet for many years. His involvement with youth, coaching, and media at the local and state levels was recognized in 1990 when he was inducted into the Nebraska Wrestling School Coaches Association Hall of Fame. Upon his death, the family established the Richard A. Brown Wrestling Scholarship. 
Richard's wife, Phyllis, passed away in the summer of 2018. In her will, she directed funds to endow the scholarship permanently. The Foundation had the opportunity to speak with Tony Brown, the oldest of the Brown's five children. He is proud of his parents' accomplishments and involvement with youth, particularly wrestling. His dad made it possible for kids to do what he wanted to do himself - enjoy athletics.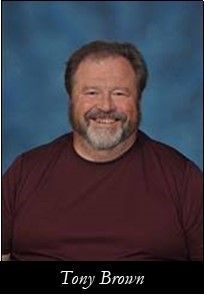 As it turns out, Tony closely follows the example his father set. He, himself, wrestled from third grade through college. He has been actively involved in the wrestling program as a member of the coaching staff at Norfolk public schools since 1976. In June of 2019, Tony was inducted into the Nebraska Wrestling School Coaches Association Hall of Fame. This will be only the second time a father and son have received this honor. Tony is a 1972 graduate of Lexington High School. 
LEXINGTON COMMUNITY FOUNDATION is pleased to administer what are now two scholarships for the Brown family - the Richard A. Brown Wrestling Scholarship and the Richard and Phyllis (Brown) Hendrix Wrestling Scholarship. Tony returns to Lexington each year during Senior Honors Night to present the awards.