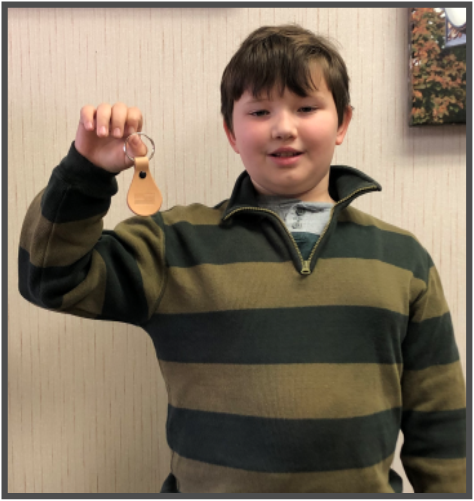 Wesley, a young student in Lexington, raised $170 for Give BIG Lexington 2018 to benefit the Dawson County Area Hero Flight. He made customized leather Key chains and sold them at craft fairs and trade shows for a small donation.
Many people in Wesley's family have served in the military and he wanted to find a way that he could celebrate them by giving back to his community. He said it made him feel "very happy" to have made so much money. "It was just key chains."  Wesley learned how to make key chains with his dad, who also makes leather goods.
In the future, Wesley hopes to expand his leather making into bigger items, including belts. When asked what he would say to inspire other youth, Wesley told the Foundation that it is important to "be respectful to your elders. Giving back can be easy if you find something you really enjoy doing."
Small people with big hearts . . . can achieve amazing things!
The Foundation has witnessed support from people of all ages for Give BIG Lexington. Thank you, Wesley, for inspiring others and being an example for youth.