Kim Booth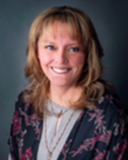 4th year of service for the Foundation Board.
Kim Booth is a 1983 graduate of Lexington High and has a degree in Elementary and Secondary Education from UNK. She returned to Lexington to teach classes ranging from Kindergarten through high school. Eventually, Kim decided to be a stay-at-home mom, during which time she started an embroidery and a faux painting business while continuing to volunteer for many school and community organizations. 
She and her husband, Todd, have three children - Emilee, Abby, and Brendan. Kim and Todd own Platte Valley Auto in Lexington and Kearney and support the Foundation's belief in giving back to the community.