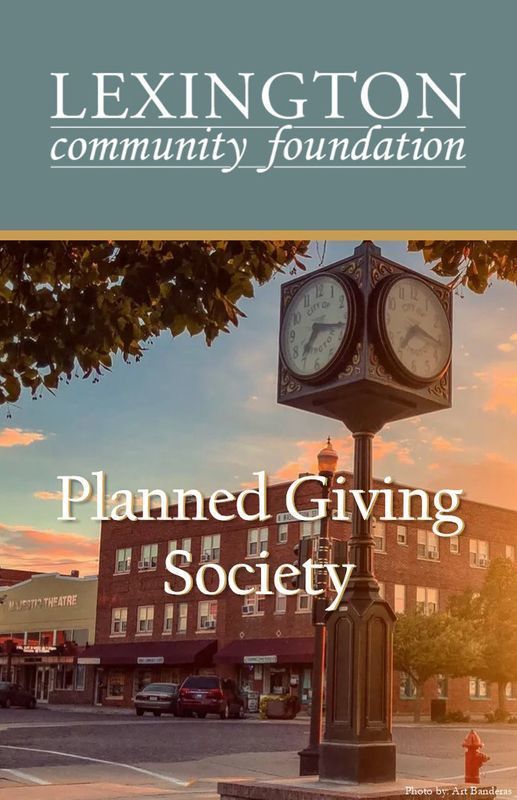 ENDOWMENTS ARE FOREVER
Lexington Community Foundation (LCF) is engaging in a campaign to increase the funds it has available to fulfill its mission. Such funds are identified as "unrestricted endowed" assets and can be used and distributed at the discretion of LCF. A successful campaign will provide a permanent source of funding for opportunities to improve the quality of life,  strengthen the sense of community and benefit future generations in the Lexington community.
In order to ensure the availability of sufficient resources in the future, the Foundation has created the LCF Planned Giving Society. Made up of like-minded individuals, Society members generous gifts will provide the resources to assist LCF in its mission to address the future needs and provide for opportunities as they develop  in the Lexington community.
There are many methods of giving to the Foundation. Each person's finances are unique and therefore a planned gift will be what is best suited for your financial situation. Below are different gift options that are available.
 Current gift. A gift at this time to LCF of cash, securities, real estate, required IRA minimum distribution or other assets.
Bequests (wills or grantor trusts). This is the most common method of making a planned gift. Such bequests may take the form of a specific bequest, such as "I give to Lexington Community Foundation the sum of $_____" or "I give to Lexington Community Foundation all my interest in and to (described property)"or it may take the form of giving all or a percentage amount of your estate, such as "I give Lexington Community Foundation ______% of the rest, residue and remainder of my estate."
Life insurance. This is also a relatively easy type of gift for donors who are new to endowed philanthropy. Naming Lexington Community Foundation as a beneficiary of a life insurance policy is easily accomplished.
IRA, retirement plan or annuity beneficiary designations. These gifts, have become more popular in recent years. Naming LCF as the beneficiary of an IRA, annuity or retirement plan can be accomplished without difficulty.
Trusts. Gifts such as Charitable Lead Trusts or Charitable Remainder Trusts are more complicated gifts to transact, as they require the participation of the donor's financial professional and attorney and often are established by donors with greater wealth.
Planned giving allows donors to invest in the future of the community they love. Contact the Foundation with any questions about how we can help you strategically accomplish your charitable objectives.
LCF's staff, board, and investments advisors are determined to see our endowments continues serving Lexington for a really long time... Make that forever.